Garrison Design & Construction
is an established metal roofing company, specializing in professional installations and retail sales of custom metal roofing packages.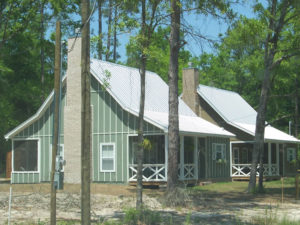 We rollform three different metal roofing systems in gauges ranging from 26 to 24. Our 3 ft wide Versa Panel is a 26 gauge screw down panel that is available in painted as well as acrylic galvalume metal.
In addition to the screw down or agricultural type panel we rollform two standing seam profiles, a 26 and 24 gauge Versa Lock, or snap lock, and a 24 gauge Berridge Zee-lock panel.  The Versa Lock panel is ideal for residential roofing while the 24 gauge Berridge panel is perfect for commercial applications.  The 24 gauge Berridge panel comes with manual or mechanically seamed clips.